The past few days have brought us some interesting new updates in the social media landscape, bringing us farther along on our visual social journey. Instagram released new photo editing tools for their app; and a few days later Instagram ads were rolled out internationally. LinkedIn brought us a new, more visual profile design. And Facebook released Slingshot, competing with ever so popular app Snapchat.
Instagram – photo editing and international ads
I am one of the people that love Instagram. Sharing excitments and discoveries from everyday life with photos. Now, these photos can become even better – with new photo editing tools being launched in the latest Instagram update. Now we can adjust contrast, light, sharpening, highlights and more simply by pressing the tool button in the app. Mashable puts it nicely: "Instagram Adds 10 New Features, So Anyone Can Be a Photo Geek". Instagram tells more of the subject in this blog post "Introducing New Creative Tools on Instagram".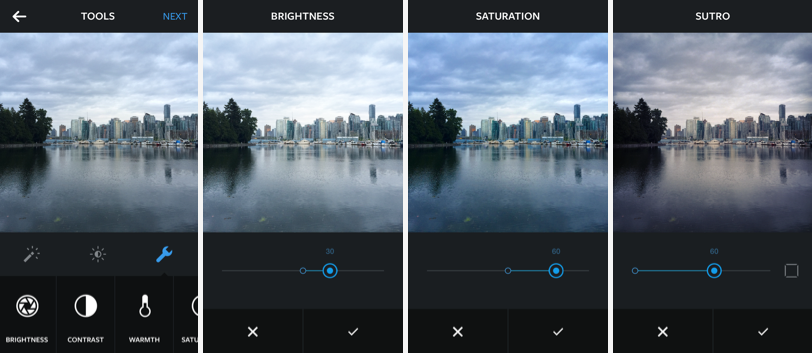 A few days later, news that Instagram has now launched their ads platform outside the US were released. Canada, the United Kingdom and Australia are the first countries in line to try out the new ad service.
"Since introducing ads last November, we've worked with a handful of top brands to draw creative inspiration from the community and create ads that were engaging and felt natural in people's feeds," Facebook said announcing the expansion.
First of, just as in the United States, focus will be on high-end brands creating top quality ads with value for the Instagram community. Ads shouldn't interrupt your everyday experience of using the app – they should just add on to the fun. It will be interesting to see what happens further along the line when other brands are allowed to start advertising as well. If they ever will?  I wrote a piece about Instagram ads when they were first launched last year (article in Swedish): "Annonser på Instagram". And regarding fun, visual and video content on Instagram – check out my post from last week: "Have fun with social video marketing!" (It just so happens that Instagram are testing video ads as well).
Linkedin – visual profiles
Annoucing the update on their blog: "LinkedIn has always been a place where you can come to manage your professional brand and to put your best foot forward. And, starting today, we've sweetened the pot for all new and existing premium members with additional functionality to help you stand out from the crowd and drive the right and relevant opportunities to you, including: New ways to visually enhance your profile."
As of now, anyone paying for a premium account with LinkedIn will be able to upload a cover photo – much like the ones used on Facebook, Twitter and Google+. Users will also stand out in search results.
This proves that building your personal brand online today requires not only well thought of words and phrases, but also a good eye for visual. With so much information on the Internet, images are quicker to absorb and evaluate at first glance than are long texts. For this – even the most professional of all social media networks now allows you to show your personal brand in images. Me? I started of with a landscape shot from a flight between Sweden and Iceland. For the love of travel, and for always being on the go.
Facebook launching Slingshot?
Facebook accidentally launched their Snapchat competitor: Slingshot. An app, that like Snapchat, let's you photo instant message with your friends – and the moment a picture is viewed, it disappears. Then, they pulled it back again. A Facebook spokesperson told The Verge:
"Earlier today, we accidentally released a version of Slingshot, a new app we're working on. With Slingshot, you'll be able to share everyday moments with lots of people at once. It'll be ready soon and we're excited for you to try it out."
This form of direct, instant messaging has been booming among the younger generation for a while. That information is not constant and forever, but here and now, just for a glance, and then it disappears. It forces you to pay attention in a world that's more than often overloaded with information. (For those of you interested to learn more about Snapschat, check out Forbes's guide from last year: "What Is Snapchat and Why Do Kids Love It and Parents Fear It?")
I'm pretty sure the debate will bloom again when Slingshot is released. But more than anything else, it proves the value of visual communication in the social media world.