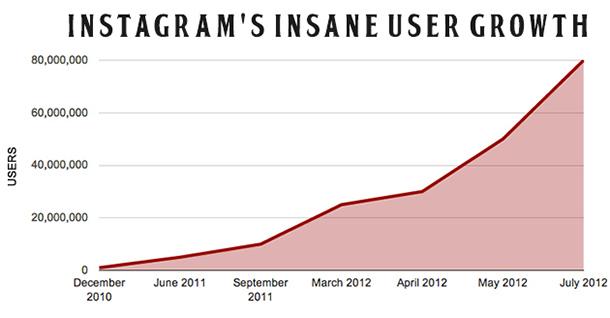 Instagram växer snabbare än både Facebook och Twitter. Appen har idag 80 miljoner användare som har delat nästan 4 miljarder bilder, sedan lanseringen i oktober 2010. På deras blogg skriver de igår:
As the community has grown, we've seen people sharing photos from all around the world, from South Korea to Bolivia, and even underwater!

We're humbled by the amazing photos from people's lives we see every day on Instagram, and thank you for being part of this growing community.

-The Instagram Team
Grafen ovan kommer ifrån ReadWriteWeb. I en artikel jämför de Instagrams tillväxt med andra stora sociala medium. Det tog Twitter fem år att nå 100 miljoner användare, och det tog Facebook lite över fyra år att nå sina första 100 miljoner användare (år 2008). Instagram förväntas nu nå samma användarantal efter bara två år.
Själv har jag redan laddat upp över 600 bilder på Instagram. Mer än vad jag gjort på Facebook sedan jag skaffade mitt konto där sommaren 2007. Instagram har jag haft sedan juni 2011. Ni hittar mig med samma användarnamn som på Twitter, emeliefagel.