Jag tror att de flesta av er sett eller hört talas om filmen KONY 2012 under den senaste veckan. (I skrivande stund har filmen setts av över 77 miljoner människor bara på Youtube) Den har spridit sig över sociala medier i ett försök att väcka uppmärksamhet kring krigsherren Joseph Kony och LRA (Lord's Resistance Army) som kidnappar barn, mördar, våldtar och utbildar barnsoldater i Uganda (samt Kongo och Sudan). Sedan 2005 har Kony legat på Haags lista över internationella brottslingar, men ständigt kommit undan ett gripande. Invisible Children, organisationen bakom filmen och kampanjen att uppmärksamma och tillfångata Kony, uppmanar att dela filmen vidare över sociala medier, och att hela världen, natten den 20e april, ska samlas ute på världens gator och sätta upp affischer med budskapet "Kony 2012″. Kony ska bli känd, så att fler människor får nys om konflikten i Uganda.
I samband med att filmen började spridas, som jag skrev om här, väcktes även en livlig debatt på internet. Att Invisible Children, organisationen bakom filmen, förvrängde verkligheten, hade kommersiella mål med kampanjen, samt att de samarbetade med den Ugandiska militären för att ge dem mer makt i landet, pengar och vapen. Mycket kritik riktas mot den "Hollywood"-stil som filmen använder sig av. Att den går mer på känslor än fakta, och att den förenklar situationen radikalt.
Ganska omgående började länken visiblechildren.tumblr.com att spridas i samband med filmen. Länken blockerades snabbt av Facebook. En spekulation kring detta är att Mark Zuckerberg, grundare av Facebook, nämns i filmen som en av de kända profilerna i USA som kan hjälpa till att uppmärksamma Kony. (Länken är i skrivande stund inte längre blockerad på Facebook). Sidan har fått mycket uppmärksamhet:
"It's been an adventure the last few days for me personally. This page has had over 2.2 million visitors, and today I've turned down media requests from Al Jazeera English, FOX, NBC's Today show and BBC World Service. Why? Because my opinion isn't what's relevant. What's relevant is that credible sources around the world are writing critically about Joseph Kony and KONY 2012."
Filmen uppmärksammas i media. I Sverige bla i DN av Leonel Marjavaara som skriver: "Stop Kony" – Stor Nätkampanj mot Ugandas Gerillaledare. Samtidigt (av slump) visar Fotografiska Museet i Stockholm utställningen Stolen Children. Soldiers of the LRA. Något som DN även skriver om här. På ledarsidan i SVD debatterar Daniel Persson Kony 2012 på både ont och gott:
"I takt med att den har blivit allt vidare spridd har även kritiken mot den ökat. Det stämmer till exempel att bara en tredjedel av de insamlade pengarna används direkt i Uganda. Resten går dock i huvudsak till att sprida budskapet, något som alltid har varit ett av organisationens syften. Att välgörenhet och bistånd kan bedrivas både direkt och indirekt är inget nytt."
Guardian har en intervju med Jacob Acaye där han försvarar Invisible Children. Acaye är en av huvudpersonerna i filmen KONY 2012 blev själv kidnappad för nio år sedan men lyckades fly undan Kony. Hans bror dog.
"Until now, the war that was going on has been a silent war. People did not really know about it. Now what was happening in Gulu is still going on elsewhere in the Central African Republic and in Congo. What about the people who are suffering over there? They are going through what we were going through."
Guardian gör även en mycket bra sammanfattning kring vad som sägs och diskuteras på nätet kring filmen här: Kony 2012: What's the real story?
Amber Ha skriver Open Letter to Jason Russell CEO of Invisible Children Inc on KONY 2012. Debatten fortsätter även på hans blogg: pomee.tumblr.com:
"This grossly illogical timing and statements on your website such as "Click here to buy your KONY 2012 products" makes me believe that the timing has more to do with your commercial interests than humanitarian interests. With the upcoming U.S. presidential elections and the waning interest in Invisible Children, it seems to be perfect timing to start a crusade. I also must add at this point how much it personally disgusts me the way in which you have commercialized a conflict in which thousands of people have died."
Invisible Children svarar på kritik här:
"We are committed, and always have been, to be 100% financially transparent and to communicate in plain language the mission of the organization so that everyone can make an informed decision about whether they want to support our strategy."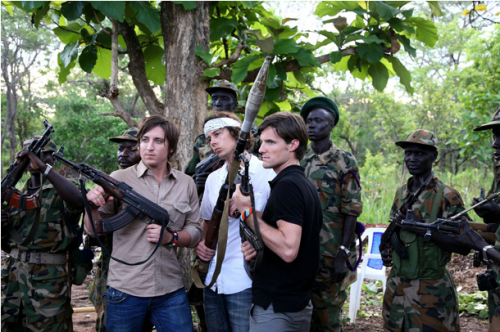 Den omdebatterade bilden av grundarna av Invisible Children: Jason Russell, Bobby Bailey och Lareen Poole med vapen tillsammans med SPLA (Sudan People's Liberation Army) soldater. Deras förklaring till bilden finner ni här.
Let me start by saying that that photo was a bad idea. We were young and we got caught up in the moment. It was never meant to reflect on the organization. The photo of Bobby, Laren and I with the guns was taken in an LRA camp in DRC during the 2008 Juba Peace Talks. We were there to see Joseph Kony come to the table to sign the Final Peace Agreement…
Debatten fortsätter. I mediebruset blir Joseph Kony känd. Var all kritik del av planen från början? Tipsa gärna om fler länkar.