"Pokémon GO' Claims Twice The Daily Use Of Facebook" – so reads a recent Forbes headline. The augmented reality mobile game where the popular characters from the Japanese game and TV-series Pokémon are suddenly introduced in "the real world" with our physical surroundings as playing field, is on everyone's lips this summer. Friend's latest catches, gym battles and levels have become an everyday conversation topic, both offline and in social media. I've had friends travel the world this summer, updating on their Pokémon hunts through Snapchat.
Pokémon GO has made gaming into a very integrated part of everyday life – maybe more than any other game before it. People are walking around out on streets to find real Pokémon and gain experience points to level up, interacting with other players face to face out in the real world. Gaming has become social, not only as in chatting with others on a computer screen, but actually interacting with one another in real life.
The game is built around AR technology. According to Wikipedia;
"Augmented reality (AR) is a live direct or indirect view of a physical, real-world environment whose elements are augmented (or supplemented) by computer-generated sensory input such as sound, video, graphics or GPS data."
Unlike virtual reality, where the playing field and everything you see are computer generated, augmented reality incorporates graphics in our real world environment. That's the technology that allows you to use your smartphone camera to see and catch a Pikachu when riding the bus, or a Bulbasaur when sitting at your desk at work or in school.
On July 13th, TechCrunch wrote: "Pokémon Go tops Twitter's daily users, sees more engagement than Facebook". Pokémon Go saw just under 21 million daily active users in the U.S, just a few days after its launch.
It has also been called the biggest mobile game of all times, in terms of daily active users: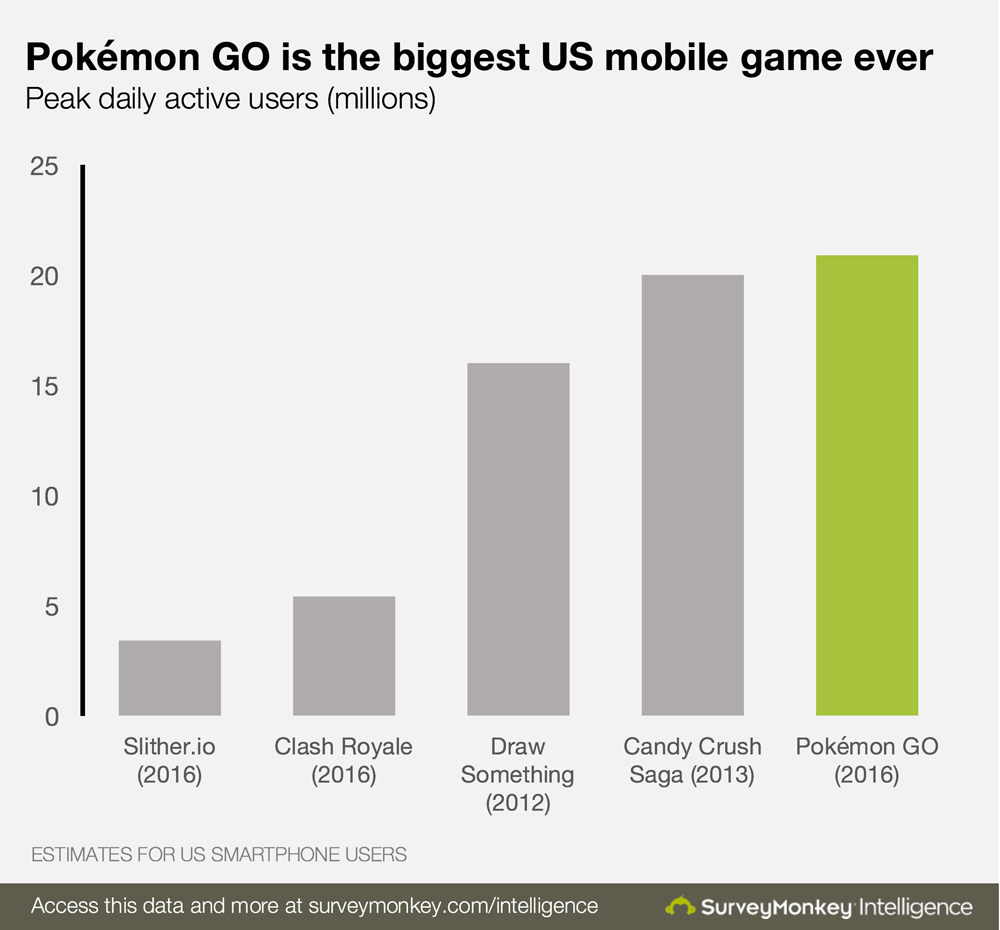 What marketers need to know
We have seen a lot of companies try to get in on the Pokémon GO hype, through local promotions and national campaigns.
Using Lures
Pokémon GO revolves around gyms and pokéstops, scattered across the map, powered by Google Maps.
Pokéstops have been randomly placed at points of interests across the map – be it street art, an information sign or an artwork. At these pokéstops it is possible to use an item called "lure module". A lure attracts Pokémon to that certain area during 30 minutes, and benefits any player that goes there. Lures have therefore become popular among local businesses that happen to be in or close to a pokéstop. By keeping the lure active (a cost of approximately 1€ per 30 minutes, unless you obtain the items by playing the game actively yourself) you will attract other players to come to that area to catch Pokémons.
When the Pokémon hunters are there, you can invite them into your shop / café / restaurant, maybe with a special deal. Like this New York clothing store (photo from Upload VR: Turn 'Pokemon GO' Players Into Customers):
Local deals
A lot of businesses, both at pokéstops and others, have set up certain Pokémon deals for players, inviting them to certain deals if they have reached certain levels – like everyone who is at level 15 receives a free coffee.
A bigger campaign
Upon launching in Japan the other week, Pokémon GO partnered with McDonalds, making 3,000 McDonalds restaurants across the country into Pokémon Gyms, assuring that a lot of people would come by to try and claim those gyms. More campaign deals like this are bound to be presented to marketers on the platform shortly, if the hype and user base remain active in the game.
Location-based ads?
Forbes writer Parmy Olson also has an interesting theory on how the game could soon be used as a platform for local ads:
"Pokémon GO could, however, do for location-based ads what it's already doing for augmented reality: lift it out of the doldrums of speculation into something that actually makes money."
More possibilities are bound to present themselves shortly as Pokémon trainers keep traveling the world, or at least their local neighborhood, with the aim of becoming the number one Pokémon master.
Want help brainstorming and planning how to use Pokémon GO for your business? Drop me a line at emelie@fagelstedt.com!