Email is not dead. Summary report from a marketing and productivity perspective from the Inbox Love-event at Microsoft in Mountain View, Silicon Valley today.
First things first: we spend on average 13 hours per week checking email. That's 28% of the work week. These are numbers recently presented by Mckinsey Global Institute in the report "The social economy: Unlocking value and productivity through social technologies".
Inbox Love is an annual conference covering email and inbox technology and innovation. Email is most certainty an important part of our lives, sometimes overwhelming us in a way that we nearly feel like we're drowning in our own mailboxes. At the same time, it's the greatest communication tool out there – both in talking with our colleagues, family and friends, as well as from a digital marketing perspective.
Technologies are changing, and so is the whole experience around email. We've been looking at email being scrolling up and down, clicking to make something bigger or opening it up, for a very long time. That's basically how it's been for the past 25 years. Email of the future however, will be mobile, personal and smart.
Email marketing dollars
So from a marketing perspective, is email important? Yes. In this simple equation presented by Allen Nance, CEO and founder of WhatCounts, it is clearly explained why:
"4 billion users + global + $40 ROI + ripe for innovation = love email". Basically, there are 4 billion people using email, soon turning into 5 billion. (That's a lot of people.) Also, email is used globally. Email continues to be the most important digital marketing tool, creating US$40 ROI for every US$1 spent. (That's not something you're getting of social media, seriously.) Plus, email is ripe for innovation – there are a lot of things going on, and a lot of things that need to happen, in order to take email to the next level.
"What is the best time of the week to send an email?" - will soon be a question of the past. Inboxes are becoming smarter, and will soon leave the whole concept of showing "newest at the top" and instead replace it with an algorithm that learns who you interact with most often and how. (Imagine the most recent posts being the ones to appear highest in a Google search instead of the most relevant – that would be crazy). Inbox placement technologies will change the way we view and use email; and also the way people will do email marketing. It will be more about being relevant and building relations, not about sending an email out at the exact right time.
Newsletter design and function

There's also the problem with email design - because anyone of us who has worked with email marketing knows that emails can end up appearing very differently depending on what platform they are opened on. Ros Hodgekiss, Community Manager for Campaign Monitor, talked about the rules that apply for all the different platforms today, handing out charts on what code works where and for what, proclaiming "Let's fix email!"
Today, up to 50% of email openings are done in mobile.
"Responsive email design is becoming more usual – you want your email to look great on mobile devices. They should look amazing regardless of if people are looking on desktop or computer," explained Colin Nederkoorn from Customer.io. He went on to talk about email subscribers being worth much more than both Facebook and Twitter followers. An email list is basically worth gold. An amazing tool for marketers – that's why people are investing in it.
Justin Khoo, from Campaign WorkHub and author of the blog FreshInbox, talked about the future of email newsletters.We'll be seeing more hover possibilities in email – including extra content in a picture or text that appears first when hovering over on desktop (or clicking in specific spots on the email on mobile and other touch-devices). Going forward, the goal is to make email as interactive as the web.
Aggregation, tools, security

Aggregation was also a buzz word, focusing on how services are aggregating content from other platforms and also working together. Daniel Franciscom, Senior Director of Product Management at RelateIQ (a SalesForce-company), talked about putting the human back in the equation – making sure users have the tools needed to do their job.
Email is the biggest information source for sales professionals – sending and receiving an average of 115 emails every day, which is around 600 emails per week, or close to 30 000 per year. Today, apps for Outlook can be installed to be synced with SalesForce, so that a salesperson can update and access information from Salesforce directly through Outlook.
On another note, a big focus of the conference was on security. If interested in email encryption, please download Google's report on Safer email:  google.com/transparencyreport/saferemail.
Inbox by Gmail

One of the big hypes in email these last weeks has been Inbox by Gmail. Shalini Agarwal, Senior Product Manager, Inbox, Google, was present to demo the app and talk about its functions and the ideas behind it. Inbox has been a two year effort to try and deal with the current issues in email.
"Why we built inbox from scratch? Since we launched Gmail 10 years ago, the world has changed, email has changed. Today you get email for pretty much everything you do – both friends, families and business, as well as receipts and invites from events." Inbox by Gmail is meant to deal with the issue of why is it so hard to manage email today:
Email volume – there's so much going on in one inbox, with so much different information.
Varied information – there's messages from friends and family, business emails, etc.
Every email is a person asking you to do something – but what about all other things you need to do that no one sends an email about? Like post-it-notes, schedules, etc. You need to remember things you need to do that are not in your inbox.
It's not just emails and text anymore. In Inbox for Gmail there's also photos, flight information, and other content; the inbox goes out to the web and gives you more information – like if your plane is on time. Inbox highlights the information that is in your inbox – meant to helo you deal with the information volume problem. There's also bundles that collect all emails in one and the same category in one place – like social, promotion or travel. That's made to deal with the varied information problem. And also, you can add reminders, so that you remember the things people are not emailing you about. And then you can snooze them – so that they appear a specific time or when you reach a specific location, like your home. Google also helps you by assisting with information being added from the web – like helping you find numbers to people and businesses, or reminding you when you have to return something you borrowed. New functions for assist are being added all the time.
Inbox is solving a different problem than Gmail; it's helping you solve email overload, varied information and post-it-notes. For the future, Inbox for Gmail is also working on adding support for other email clients. Will it become the inbox to rule them all?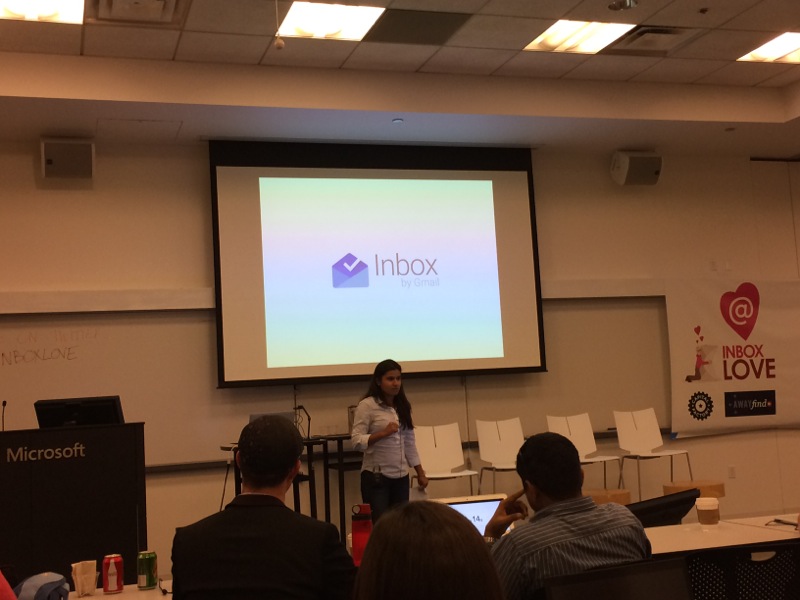 Start-ups on email

There were also start-ups pitching their up-and-coming inbox solution at the venue. Some of them were:
I myself was present as a representative of Japanese mobile app start-up BHI Inc, having recently made our suite of three iOS app, designed to help people manage information overload, available on the US Apple App Store. Our perspective is that there is a big difference between "important" and "information" that people almost tend to forget these days. We don't need all information present at all times. Through our apps Swingmail (prioritizing inbox), Swingbook (smart contact list) and Swingcal (who-focused calender) we deliver only important information from important contacts when on the go. In our society, we're experiencing information overload. We need to find ways to become efficient and stay focused again. Our team pitched at Inbox Love last year, but were here visiting from Tokyo this time around to get inspired by the latest trends in inbox.
Going from today to tomorrow

Now back to where we are today, I'd like to quote Allen Nance from WhatCounts again:
"There's really no one saying 'I want to send more, less personalized shitty emails.' But still, everyone in this room will get 20 pieces of crap emails this morning alone. There's a big gap between the vision and what is really going on."
Let's move towards that efficient future!