Visual communication, stickers and emojis, are ever so important in Japan, and all over Asia. They are an essential form of communicating – fun, easy and fast. To succeed in the Japanese market, one needs to see to the way of communication here. And that is, basically, by going visual. A fantastic example of this is the exploding growth of mobile app LINE – "-Mobile messenger app with various stickers and free voice & video call".
While Facebook and Twitter seem to be loosing users in Japan, first due to the lack of privacy, and then to the lack och stickers (even though Facebook has launched stickers recently, and Twitter has become more visual in showing photo previews), Japanese mobile app LINE is increasing quickly. In November, they hit 300 million users [source: Japan Times], and the numbers have since increased. And usage has been growing in other parts of Asia, Europe and Latin America as well.
Unlike Facebook and Twitter who make money through ads, monitization in LINE comes from selling stickers. That is, pictures that represent different situations, feeling and emotions. Youth in Japan are very keen to communicate this way.
Also, LINE is mobile native. That is, the app was developed for a mobile from start. Unlike other apps that originate from a desktop counterpart (like Facebook and Twitter).  There is a certain feel to that. Japan has one of the highest numbers of mobile users in the world – 86% of the population – compared to an average of 71% in the world.  [Source: Marketing Interactive – Why Japan's Youth are turned off by Facebook]. So it isn't surprising that the first question I get asked when talking to people here in Tokyo is "What is your LINE ID?".
James Hollow for Marketing Interactive writes:
"For Japan's users, who were raised on an image-rich diet of manga characters and anime, the stamps are the easiest and most charming way to express their everyday feelings. Each stamp has been designed to map to a commonly shared feeling like "I'm exhausted", or "having fun!" using 4 original LINE characters as the grammar of its visual language."
As for Twitter, the social network is struggling and loosing users all over Asia. A market that used to be its quickest growing user group, many thanks to the high density of connected individuals in Japan and Korea. But now, people are losing interest. Or as my new friend Akiko said, "I only use it because I need it for work. But I don't really like it." Thomas Clayton for The Next Web wrote again about the importance of stickers, of visual communication. To make Twitter relevant for the people here. It needs to fit in on the culture.
"Stickers are essentially a must on social networks these days in Asia. One reason stickers have been so successful in Asia, is that they help people to express their emotions accurately and concisely – often much faster than it would take to type them in local language characters. In Asian languages, long-winded responses are frequently needed to accomplish this. The use of a sticker not only solves this problem, but it adds humor and fun to social interactions that many users enjoy. Just look at emojis for example."
And the trend is not only local here in Japan. The rise of stickers and anime is growing around the world, being adapted by more and more people. John Russell for The Next Web started writing about this trend already this summer: "Stickers: From Japanese craze to global mobile messaging phenomenon".
And as mentioned before, yes, even Facebook has been catching on and started integrating stickers in their messaging functions for a while now. In this post, last edited two months ago, they describe in the own words: "What's a sticker and how do I send one?"
"Stickers are illustrations or animations of characters that you can send to friends. They're a great way to share how you're feeling and add personality to your chats."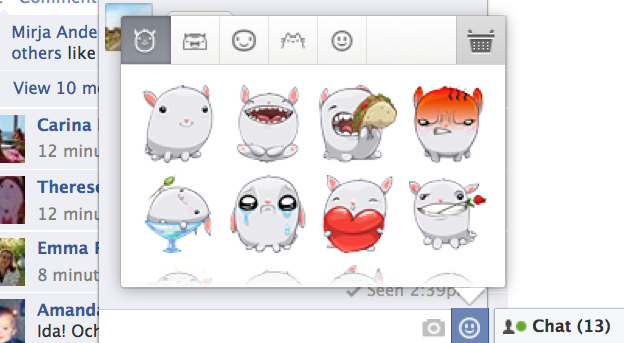 So what next? I expect we'll see even more stickers, and more emojis. In all social networks that is. Asia is an important growing market, and Western companies need to catch on. I think that these characters will become art. In a few years we will most probably have "Sticker designers" and "Emoji illustrators" as normal positions even in Europe. And the importance of "Visual communication professionals" will be ever growing. While I'm having a hard time learning to read Japanese characters my first week in Tokyo, one thing is certain – I understand the stickers, anime and emojis effortlessly. Pictures are universal. And in a digital world, universal is always a very very good thing.